The Original Production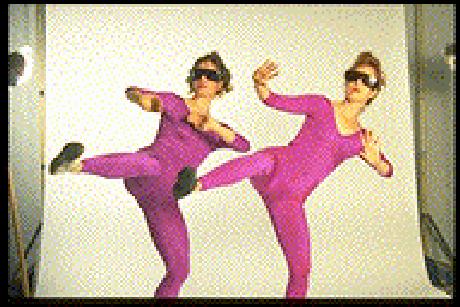 The original production tookover one year to develop and involved 11 collaborating artists, 2 performers, and 3 technician-performers. The set, a maze of interconnecting scaffolding pipes, weighed approximately 5 tons and took 6 days to assemble. It could be reassembled with great difficulty in changing configurations at each venue. Audience, performers, and technicians shared the set as simultaneous playground and seating environment.. Five 35mm projectors, one video projector, 24 lighting instruments, and six special effects including fiber optics provided an array of multimedia illusions.. An original jazz fusion score enhanced the dark erotic theme of the show. .The athletic choreography was augmented by the inclusion of a work by German Expressionist Mary Wigman.
Vlad Draculea in the Year 2000 opened, by invitation, at the Festival of the Arts at Foothill College (a prestigious Bay Area venue) in July 1994. It ran for 6 performances and generated tremendous interest from the arts community.
During August, the production toured to St.Bride's Center/Springwell House, Edinburgh Scotland as part of the world renowned Festival Fringe. Over 900 pounds of sets, props, and electronic equipment were shipped from our home base in California to this event. This had to be supplemented by 5 additional tons of scaffolding material The show played to sell out audiences at the festival and received both critical and audience acclaim. Company members were interviewed live on Festival FM radio To quote Scottish theater critic, Ronan O'Donnell: "...this piece demonstrates more than anything else that the superhighway is its own place and in itself can create a heaven of hell, a hell of heaven."
Vlad Draculea in the Year 2000 forms the basis for NP's 1996 cyberperformance VD 2001 and has generated two short videos which are seen nationally and in syndication on PBS, independent, and cable networks.
Map | The Company | VD2001